The Central Valley's Preferred
Heating & Furnace Service
Whether it's installation, service, repair, or maintenance, we provide the highest quality, most efficient heating in the Modesto, Turlock, Merced or Greater Central Valley area.
Be sure to ask us about our VIP Maintenance Plan
Your Furnace May Not Be Grandma's Blanket, But
We'll Keep It Keeping You Warm.
Nothing's worse than tossing and turning, being utterly miserable, while shivering and shaking, and trying everything in your power to stay warm on a blistering cold winter night here in the Central Valley. Unfortunately, this is exactly what it's like when your gas furnace or heater is out. Blankets don't help much, and all those extra layers of clothing you try to wear in bed just make you feel wrapped up and constricted like an insomniac mummy. What to do? Get in touch with us for heater repair or service and you'll feel warm again in no time.
We've been in the business of keeping Central Valley residents just like you warm and cozy since 1969. You can call us any time of the day or night and have peace of mind knowing that our team will be on its way as soon as we can, and that someone's waiting to take your call 24 hours a day to keep your home comfortable. We can repair any make and model of manufacturer equipment. No matter what brand or model heating system. We're the heating contractor to call for quality service.

Did you know? Our VIP Service Maintenance Plan Can Keep You Warm Year-Round At A Significant Savings

If your heater blows cold, or worse, isn't blowing at all, it's time to have your furnace serviced. Our NATE certified technicians have countless hours of on-going training and years of experience making sure that your home is safe, reliable, and free from problems or possible hazards related to your furnace or water heater. Servicing heaters and gas furnaces is critical, even when things are working right, on a regular basis. That's because some problems like gas leaks, could go undetected until it's too late.
Sometimes when your home's heater experiences a problem, it's a simple matter such a blown fuse on your circuit breaker, or an improper setting on your thermostat – especially if you have a smart thermostat, since there are more options. But of course, that isn't always the case. There are definitely several ways our technicians are trained to check and tell if your water heater or gas furnace isn't working properly.

Heater and Furnace Installation & Replacement
You may be surprised to find out how much more efficient, and how much quieter — you don't have to turn up the TV when the heating and air conditioning comes on anymore — our newer systems are.
Wally Falke's also offers high efficiency solutions like high efficiency heating, radiant, or geothermal heat pumps for the most efficient heating and cooling available today. One thing that can ensure that your heater lasts as long as possible is scheduling regular tune-ups. These tune-ups are comprehensive checks of several aspects of your furnace's fuel efficiency and mechanical integrity. Not only will a regular furnace tune up ensure that you don't have to spend money investing in new replacement heating equipment as often, but it will also ensure that you stay compliant with warranties and are burning fuel efficiently. Finally, a furnace tune up will allow you to check for possible health risks like gas leaks and other hazardous emissions that might go undetected and wreak havoc on your health or that of your family.
If you've ever been told that you need to replace your furnace by another HVAC contractor, take advantage of our free second opinion. If you're not sure what to do, or feel the estimate on your heater repair seems a bit costly, let us come and examine your equipment and give you our expert advice, absolutely free. We offer a one year money back guarantee on new installs, and are the only contractor in town with the Triple Trust Parts, Labor and Workmanship Guarantee.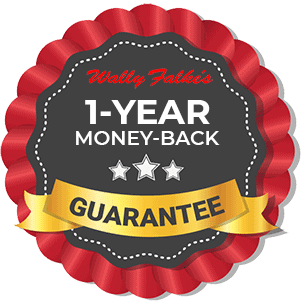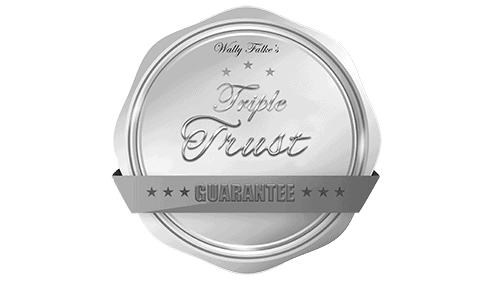 Experience The Wally Falke's Difference
Servicing your Central Valley heating needs isn't just a job for us. As a family-owned business, it's an honor and an opportunity to serve our local community. As active community members, we care about your health and comfort.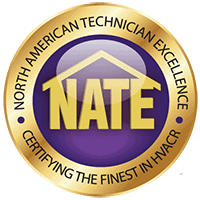 NATE CERTIFIED
Our technicians are proud to be NATE Certified - the highest level of on-going education and training in the industry, for technical excellence.

Dependable Service
We've been in business for over 50 years, and service over 1000 customers. You can count on us.

Top Rated Service
We are the highest rated local heating and air conditioning provider in the Modesto, Turlock, Merced, and surrounding areas.

Save Money
Efficient systems save you money by lowering your energy and utility expenses. You could even be elegible for a rebate!
We Service The Entire Central Valley, Including:
See What Our CUSTOMERS Say
I have an almost 100 year old rental in Gustine, and the Central AC / Heat wasn't very efficient, the tenant was spending big bucks on PGE bills. Wally Falke's hooked me up with a great low interest lender @ a local credit union and installed quickly. Now I have a happy renter, hopefully for many years! Fast, friendly people to work with and would surely call again.​
I have been with Wally Falkes for a couple of years now and have always found them to be very responsive to trouble calls. They have a very reasonably priced maintenance program that I subscribe to that gives me two scheduled visits a year to check my system. This is a great company with great people!​
I had a great experience, and loved the honesty. Our unit is old and doesn't have much life left, but we were not pushed to replace it. They serviced the unit and replaced the bad parts and did what they could to give us more time to save so that we can get a new unit when we're ready. Great experience. I would totally recommend to everybody.​

find out how we can help you stay comfortable and save on energy costs